U869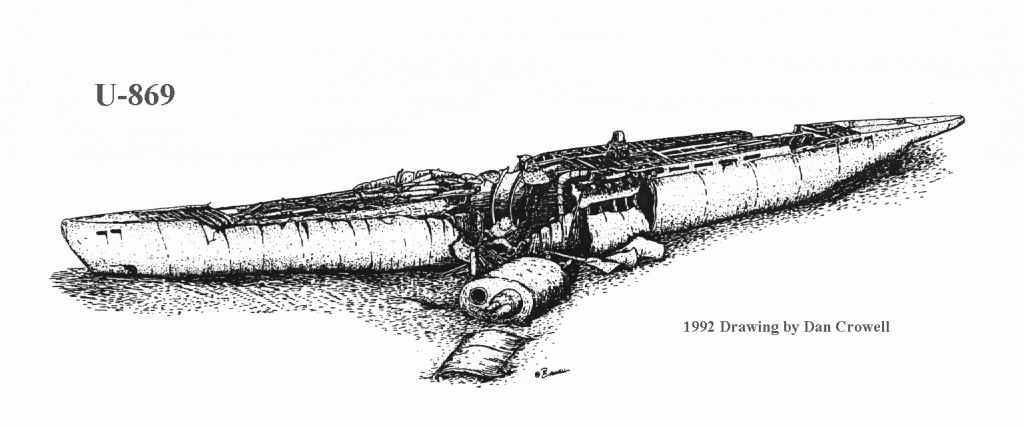 The U-869 Project File:
The discovery of the wreck of a German submarine off the coast of New Jersey in 1991, and its positive identification as the U869 six years later, was a project that involved some interesting research, and challenging diving. I have a filing cabinet full of the research that we conducted. Shortly after the identification, John Yurga, Richie Kohler and myself wrote the Final Report on the Location and Identification of the World War II German Submarine U-869. We then sent this report to all of the archival agencies that had been so helpful to us for so many years. The report was accompanied by the photos and documents that we interpreted as being relevant for rewriting the history of the Uboat.
Read U-869 Final Report
Further Reading:
Much to our surprise, the report was hardly the last word. PBS aired the 2 hour documentary, Hitler's Lost Sub, which was incredibly successful, and inspired two books. Bernie Chowdhury would author the book, The Last Dive, about the deaths of Chris and Chrissy Rouse, and Rob Kurson would write, Shadow Divers, a more detailed story about the discovery and identification of the wreck. Both books were very well written, and became astonishingly popular, and successful.
Long after the identification of the U869, historians working for the US Navy, and the US Coast Guard, laid claim to sinking the submarine in a specific action, back in 1945. These were essentially the same entities that had originally claimed to have sunk the wreck off the western coast of Africa at the end of the war. John Yurga, Richie Kohler and myself were not consulted by the military historians, and were not in agreement with their conclusions, so we responded in a series of three articles for Wreck Diving Magazine entitled, The Fate of U869.
Between the Final Report, and the more recent magazine articles, you have the synthesis of the research we did on this wreck. I hope you enjoy reading them.
View the PDF's from the Wreck Diving Magazine Articles about the U869:
U869 Part 1
U869 Part 2
U869 Part 3