Upcoming Course Dates
November 9-11, 2019 Saturday through Monday over the Veterans Day Holiday Weekend
TDI Intro to Technical Diving Workshop
This is a course specifically designed for recreational divers who want to experience what technical diving equipment, strategies, and planning, are all about. If you are considering becoming a technical diver, interested in diving deeper, or looking for more Bottom Time, this is the course that will provide you with the foundation for getting started in Technical Diving.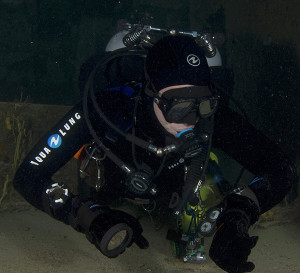 You are welcome to bring your own equipment, but having your own set of Doubles is not required. If you are thinking of purchasing technical gear, this is a great opportunity to see what works best for you, before you commit to anything.
The Workshop is a 3-day course that was put together by my friend Alec Hutchinson and myself for Force E Scuba in Boca Raton. It is comprised of 2 - half day lectures, a pool session, and 4 Open Water dives. We start out on Day 1 with an academic session examining the equipment used by technical divers, discussing how that equipment works, and looking at the associated advantages and disadvantages of different set ups. The primary focus is diving with double cylinders, and all that entails. In the afternoon, we are off to the pool, where participants will have a chance to try a variety of equipment prior to our Open Water dives on Day 2.
For Day 2, we will make a couple of relatively shallow wreck dives (70-foot range) to see how the equipment performs in the Ocean environment. We will work on our fundamental skills of Situational Awareness, Self-Awareness, Buoyancy and Trim, and Communications. All our dives will be No Decompression wreck dives. Following our dives, we will return to the classroom where we will debrief on our dives, and learn about dive planning as it relates to technical diving.
The last day we will again take to the open water for another couple of wreck dives, on something like the Captain Dan, a little over 100 feet in max depth. Participants who complete the Workshop will receive the TDI Intro to Technical Diving certification.
Open Water Diver or equivalent, with at least 25 logged dives. Highly recommended to have Enriched Air (Nitrox) certification, though this can be conducted concurrently with Intro to Tech for an additional fee.
Students must have basic scuba gear: mask, fins, gloves, and wetsuit. All other equipment, such as cylinders, backplates, wings, and regulators, will be provided for the first day pool sessions so students are able to try out various configurations. For the Open Water dives, students can use their own equipment, purchase new equipment, or rent equipment for $25 per day.
Cost is $800 per person, includes lectures, boat fees, rental cylinders, and certification fees. Students are responsible for their own gas fills for the Open Water dives.
Contact John