Upcoming Course Dates
TBA
My Deco Diver Course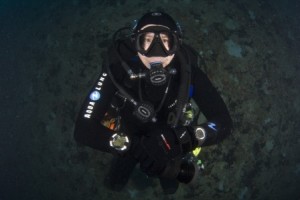 My version of Decompression Diver Training meets all of the standards for the TDI Advanced Nitrox and the TDI Decompression Procedures certification courses. However, I like to go a little beyond the minimums and provide students with some additional training, experience, and insight that I feel is important for divers who are planning and executing decompression dives. Students who successfully complete this training should be able to competently plan and conduct dives with mandatory decompression up to a depth of 150 fsw.
This class is offered independently by me, in Pompano Beach, Florida. The course consists of three days of training, ideally with lecture and diving each day. There are 6 certification dives total, conducted two dives per day. Class size is limited to 4 students, and I teach the class myself, sometimes with an assistant.
I want you to train you how to properly plan decompression dives, which includes planning contingencies for the inevitable failure. At the same time, equipment seems to be the thing that most students need individualized help with? To execute these dives, you should have all of the equipment you will actually need, it needs to be easily accessible, you need to know how to make it work, and it needs to be streamlined for carry and transport. For some of our underwater skills, we will be utilizing the Blackout Mask.
The best ways to counter the intimidation of a mandatory decompression dive is through knowledge, preparation, and experience. This builds a foundation for justified confidence. In three days, we will not make you an expert decompression diver, but we will provide you with the tools to continue to learn and acquire experience in decompression diving, beyond the constraints of the course.
As much as possible, all of the dives will be on shipwrecks. The first day of diving we will work on skills in relatively shallow water. On day 2, we will be making wreck dives in the 100' to 130' range. For the last day, we will be making wreck dives around 150'.
Students that complete the requirements of the program will receive the TDI Advanced Nitrox and TDI Decompression Procedures certifications. However, participation in the program is no guarantee of successful completion and getting a certification. Divers must earn their certification, by meeting all of the TDI requirements, including a written final exam.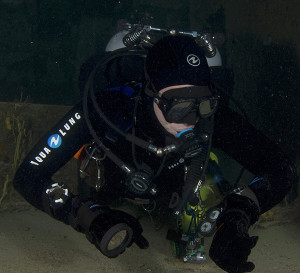 There are two class texts, the TDI Advanced Nitrox, and TDI Decompression Procedures Manuals. It is a lot of reading. Student divers will be required to read the texts completely prior to the beginning of the class. I will mail or deliver the books to you as soon as you register for the class. You will also get an email from me with some technical materials for study, and the particulars about the class.
In addition to meeting all of the Prerequisites, students will be required to read and sign the TDI Liability Release, and complete the TDI Medical Form. Students may have medical issues which will require the student to have their doctor to sign off, prior to the start of class. The most important thing for me is the safety of my students, and if there is any doubt about a student's ability to participate, this needs to be addressed by the student, their family, and his/her physician, prior to the start of class.
The weather is typically great in Florida, and that's why they call this the Sunshine State, however there are bouts of bad weather, and even the dreaded hurricane. It is entirely possible that we could lose one or all of our dive days due to weather. We will always do the best we can with the weather we have, but I can't expect you to learn how to make good decisions with regards to diving, if I am making bad weather decisions with regards to our diving together. If I make a mistake, it has to be on the side of safety.
If the advance weather forecast is undeniably terrible, as in the case of a hurricane, I will make a decision to cancel the class in advance, and reschedule. If we lose dive days due to weather, I will make them up with you, on mutually agreed upon dates. If you are flying to Florida, you may want to consider travel insurance? DAN now offers travel insurance, as do other insurance providers. At the same time, the weather is the weather and we will try to do the best we can to get you to safely complete your dives. If you miss a dive for any reason, you have 12 months to complete the dives for the certification.
If you have any questions, feel free to shoot me am email jc@johnchatterton.com
Students must be at least 19 years of age.
Students must be certified as an Advanced Open Water Diver
Students must be certified as a Nitrox Diver.
Students must show a minimum of fifty logged dives.
Students must have dive accident insurance.
Students must possess a level of physical and mental fitness suitable for the pressures of diving in the wreck environment, to a depth of 150 fsw.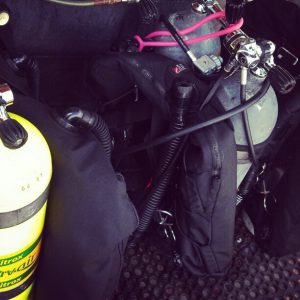 As divers, we love our equipment!! Modern dive equipment enables us to do what we do. The class is a good opportunity for you to explore equipment options and then make educated decisions about what might work best for you and the way you want to dive.
Bring the minimum required, bring what you have, and bring lots of questions, but I would suggest you hold off on most major new equipment purchases until after the class, or you speak with me.
Please feel free to get back to me at any time with questions.
IMHO, back mounted double steel cylinders with a manifold are the best primary cylinder setup for Open Circuit deco diving. Side mounts, or Twin K Valves will also work. You will need cylinder(s) with volume(s) appropriate for dives planned to 150', considering your individual SAC rate. All cylinders are to be labeled according to TDI Standards, which means Nitrox cylinders need to be labeled for Nitrox. An O2 clean Deco Cylinder is required for the class, rigged to carry. Bring whatever size you want, but most students use aluminum 40's. Typically, I will utilize an AL72 for classes. Twin Faber LP85's, and HP120's cylinders with an Aluminum deco cylinder can be rented for this course here in Florida, through me. Complete cylinder Rentals for the 3 Days - $60
Regulators:

You will need a Primary and a Primary Backup regulator on your Bottom Gas supply.
You will need an O2 clean deco gas regulator.
You need a SPG connected to the first stage regulator, for each gas supply.
One of your second stage regulators needs to be on a "long" hose that is 6' or more in length. If you do not already have a long hose, you can borrow one from me, for free.
You will need a "Necklace" or some other way to hold your backup second stage regulator in place around your neck. I prefer using simple 1/8" bungee and not the rubbery, store bought ones where the regulator keeps falling out. A bungee necklace just works better.

You need a BCD suitable for the Open Water environment, for your particular cylinder setup. A typical "Wing" setup for doubles will have 40-65 pounds of lift, however IMHO you are better off with something in the 45# range, like the DiveRite Rec in 45# with the dual bladder. For deeper dives, you really need a dual bladder. Trying to respond to a Wing failure is time consuming, and we don't have time to screw around on deep decompression dives. Divers using a single bladder BCD, need a plan for alternate ascent in the event of a catastrophic BCD failure. A dry suit, lift bag, or SMB are all acceptable, but you need to know how to use your specific contingency device, and practice deploying it.
For this class, I am making a Shearwater Dive Computer mandatory. You also will need a backup computer or depth gauge. In class, we will download your dives on the Shearwater, and dissect them. This makes the Shearwater a valuable learning tool for you, and it will make a definite difference in the way you dive. If you do not have a Shearwater, and do not wish to buy one, I will rent you one for the three days of class - $25.
You will also need a means to plan your dives using your dive computer, Smart Phone, laptop, or tablet. The algorithm of your planner should match the algorithm of your dive computer. Examples of popular dive planners are IDeco, Ultimate Planner, Baltic Planner, and Multi-Deco. You can link to the MV Planner free download here.
You will need lights:

One Primary Light.
One Back Up Light.

You will need to bring with you at least one Ascent Reel, or spool, with a minimum of 150' of line on it, with at least one SMB (4-6' long). I prefer open bottom SMB's that allow you to fill with your BCD. Personally, I love the Apeks 150' Spool, the simple Dive Rite Slide Lock 250' Reel, and the Carter 35# SMB. Bring everything you already own, but don't buy a bunch of new reels, spools, and SMB's ahead of time.
A Line Cutting Device is required, and it needs to be sharp.
A usable underwater slate, wrist slate, or notebook, and a writing implement are required. I like the Pilot Croquis 6B pencil. I don't like tiny little Miniature Golf pencils. We will use the slates for recording important elements of our dive plan.
Bring a spare double dog clip, for attaching accessories, but no gate clips.
You need a wetsuit or drysuit, with hood, suitable for the water temps for the dates of the course. Feel free to call me for a better handle on water temps and further advice.
You need gloves to protect your hands. You can use neoprene dive gloves if you like, but rubber coated work gloves are adequate for the warm water environment. My favorite, Dyneema gloves by Hammerhead, with the smooth polyurethane coating, not the crinkly ones.
You need a comfortable mask, and a backup mask with a way to carry it, which is typically a pocket. I just buy a pocket, and glue it on my suit. I like the Apeks WTX, with a zipper. I am not a fan of Velcro. If I glue one on the front thigh, if helps to hold my (BFK) knife on the side.
You also need a comfortable pair of fins. I love the Mares Power Plana for wrecks.
If you need to wear lead weights, make sure you bring a belt, harness, or system to hold the weight.
The cost of the class is $1200 per student. This includes all of the training, the 6 boat dives, the class texts, and both certifications from TDI. There are no additional class costs, however students are responsible for all of their own equipment, maintaining it in working order, gratuities for the dive boat crew ($10 per diver per day is customary for reasonably good service, $20 for exceptional service), and cylinder rentals (if required) as well as all the Nitrox fills for the dives. Of course, students will be responsible for all their own transportation, meal, and lodging costs as well.
Prospective students who meet all the requirements, may reserve a place in class with a $600 non-refundable down payment. I will invoice you through PayPal and you can pay by credit card, check, or of course PayPal. If you have any doubts about your ability to participate in this class, please do not make a commitment until you are sure you are going to be able to attend. The balance of $600 is due on the first day of class. Checks, cash, credit cards, and PayPal are all accepted. If you have any questions at all, please feel free to contact me.
Contact John