For me in 1988, the summer was Doria Season. I was a Mate on Bill Nagle's dive boat, the Seeker, and for a good part of the summer, we were either in Montauk, NY, waiting for good weather, or anchored above the wreck of the Andrea Doria. It was a great time to be a deep wreck diver, and a great time to be on the Doria.
Early that season, I found an interesting way to get into the Third Class Dining Room, only a short swim from the Third Class Kitchen, on the Ponte Vestiboli or the Foyer Deck. Third Class was completely untouched at this time because of where it was on the Foyer Deck, and because there were so many places to explore. The problem with my Third Class route was that it was not a swim-in-the-park. Entry into the area required passing a restriction where the average diver would have to remove his air filled doubles in about 190' of water, and pass through a restriction with a 60' cavernous drop off on the other side. As a result, I was basically working Third Class alone because no one felt comfortable in joining me? Now, I was not a dedicated buddy diver, but I did like having company, and the restriction was added risk to what was already a very challenging dive.
So, I went to Bill and told him I wanted to use his Broco torch, and enlarge the opening in the wreck so other divers could get in. This would be good business for the Seeker, and a cool project, so he added a Doria trip to the end of the season in August, just to burn a larger hole into Third Class. Unexpectedly, we ended up with perfect weather, and we were able to accomplish the mission, successfully overcoming the few technical issues. We were in Third Class!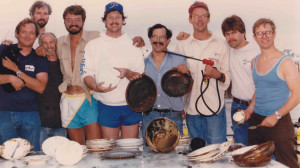 However, it turned really crappy within 24 hours of burning the opening. Run away, kind of crappy!! We barely got to dive the new hole before we had to leave, and the ride home was a long one. We all shared the fair amount of Third Class china that came up, but we decided that the first trip of the next season would be a special trip for all the guys on the boat who had made opening up Third Class possible.
Now, we had a new hole, and new china and we were not out talking about it. There were only a handful of boats, and a limited number of divers who were actively diving the Doria. In spite of the competitive spirit between boats and deep divers in the Northeast, there was also something of a code of conduct. You did not jump another divers claim. If someone was actively working a project, then you left them alone until they were successful, or they gave up. On the Seeker, we had opened the wreck, we worked for it, and we felt this hole was still ours, at least for the time being.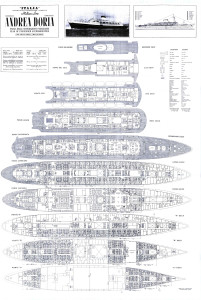 However, there was a true rivalry between the New Jersey based Seeker, and the New York dive boat Wahoo. That winter, at a Christmas party attended by a lot of the divers from the Wahoo, some video of our cutting into Third Class was shown, and they talked about how weather had forced the Seeker off the wreck almost immediately. It occurred to Steve Belinda, the captain of the Wahoo, and others at the party that it would be a great prank, and good business, for the Wahoo to put a "secret" trip to Third Class together, leaving before the Seeker's first trip to the site!! They would not list the trip on their schedule, and everyone participating was sworn to secrecy. Their goal was to "clean out" the hole before we got there!! It would be a memorable coup! Of course, their "secret" trip was not for everyone, because of ethics. Because of that, word finally got back to us on the Seeker.
Now, Third Class was huge, truly huge, and there was years and years of china there to be recovered, so they were not going to clean anything out in a single trip. There was plenty of china for everyone, but this was against the unwritten wreck diver code of conduct. Bill took it as an attack on him personally, which it really was, but the rest of us were still not happy. Of course, the problem with unwritten codes is they are somewhat subjective. They were going to best us, and what could we do about it???
Glenn Plokhoy, was a talented young Doria diver and was part of the first team to Third Class. We were good friends, and dived a lot together, so we discussed our options. What could we do? What if we went out first, before the Wahoo? What if we closed the hole??? What if we designed a way to seal the hole we had opened.... maybe with something like a grate? What if we out-pranked the pranksters??? With a little luck and determination, we might be able to do it. Doing something so impractical, and original, and stupid, was a total challenge. It was us.
Glenn and I went to Bill, who wanted desperately to do something outrageous. So, we proposed a "super-secret" trip, to leave before the Wahoo "secret" trip, where we will first dive the hole we opened, go in and collect lots of china, and then close the opening with a "Grate" that Glenn and I would build. Bill loved the idea, especially since it meant another Doria trip for the Seeker, and more money.
Glenn is an engineer, so we started with some specifics as to what we wanted from the Grate.
We wanted to keep others out, but a way to easily re-open the hole so we could get back in.
It had to be strong, and it had to work. It would not be that funny if we closed the hole, and they opened it with a swift kick.
But we also wanted the grate to appear "weak", to encourage them to waste time working on something futile. This was the psychological element.
The Grate could not be opened by any tool that might be aboard the Wahoo.
We wanted to close off the opening we had cut, but leave an access about the size of the original opening. They could enter Third Class, but only like I originally had. 🙂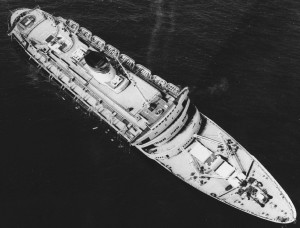 So, in the spring Glenn and I built the Grate. We drew measurements from the video he had shot when we opened the hole. The Grate was some heavy steel, almost 250 pounds, and we spray galvanized it. The bottom had inverted "Y" legs that were designed to slip over the steel plate at the bottom of the opening. The top would be held up, and down, with case hardened steel chains, connected by special case hardened bolts that could only be installed with a proprietary wrench. They could rattle the Grate, lift it up a little, and move it around, but they could not take it down, and they could not get inside. It was not going to be taken down with a hack saw, a wrench, or anything short of a torch. Of course, this is all assuming it was actually going to work???? We would not find out until we were on the wreck and tried to install it.
Amazingly, our "super-secret" trip did remain a secret?? How that happened, I have no idea. We were totally prepared and ready with our plan, including spare parts. Again, the weather was perfect. We were very successful in Third Class, and could have just gone home from there. However, the Grate fit the opening in the wreck perfectly!!! When we left the Doria, the Grate was in place and the opening secured. As the Seeker pulled into Montauk harbor, the Wahoo was just arriving on the Doria for their "secret" trip. For them, what they found on the wreck was not what they had expected. Some of their divers laughed, some just smiled, and some spewed venom. There are very few things I have accomplished in my life, where I have not ended up pissing someone off for some reason or another, and this was no exception.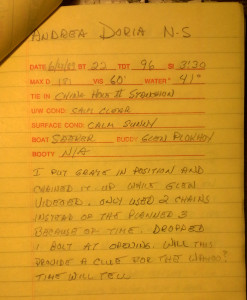 Over the years, thousands of pieces of china were salvaged from this opening into third class.  When we next returned to the Doria, the Grate was still in place, we were able to open it easily, and were the first ones to get at the third class compartments thanks to our grate idea. When that trip was finished, we left the hole open, and the Grate lying on the wreck.
When the Wahoo returned to the Doria for a later trip, they tried to salvage the Grate from the wreck, unsuccessfully. Thousands of pieces of Third Class china passed through that opening over the years.
Seriously, it is almost 25 years later, and I am still laughing about how ingenious, driven, and stupid we all were. Diving on the Doria was always serious, and challenging, and sometimes even fatal. It was a no nonsense wreck that did not tolerate foolishness well. At the same time, we found a way to have a little fun, and diving is supposed to be fun.
The sign that Glenn and I left on the Grate read:
"Closed for Inventory. Please Use Alternate Entrance. Thank you. Crew and Patrons of Seeker."