Upcoming Course Dates
The 2015 Schedule will be out soon.
My Advanced Wreck Diver Course
My version of Advanced Wreck Diver Training meets all of the standards for the TDI Advanced Wreck Diver Certification Course. However, I like to go a little beyond the minimums and provide students with the additional training, experience, and insight that I feel is important for divers penetrating shipwrecks. Students who successfully complete this training should be able to competently plan and conduct advanced wreck dives, with a focus on wreck penetration skills and techniques. The specific objectives of this course are to prepare the students for the hazards of wreck diving, by training them in proper preparation, analysis, and the use of equipment.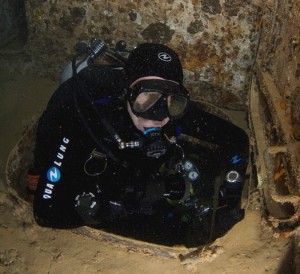 This class is offered independently by me, in Pompano Beach, Florida. The course consists of three days of training, ideally with three mornings of lecture, and 6 certification dives conducted two per day, in the afternoon after the lectures. The planned lecture morning/dive afternoon schedule may be changed to accommodate weather conditions.
This is not rigorous training, and we have a lot of fun, but divers need to be reasonably fit for technical diving. At the same time, this is a three day program where we cover a lot of material, and put in some long days. In general, Day One is about equipment, Day Two is about navigation, and Day Three is about penetration techniques. We do a lot of work with the blackout mask, passing through restrictions, and utilizing the tools of navigation.
In three days, we will not make you an expert at shipwreck penetration diving, but we provide you with the tools to continue to learn and acquire experience beyond the time restrictions of the course. The diving depths shall not exceed the level in which the diver is already trained and competent. Dives for the course will mostly be less than 100', but will not be any greater than 120'. The class will have 8 students maximum, and we are not conducting dives with planned decompression, as decompression diving is not part of this curriculum.
What to Expect: Wreck Diving
Students that complete the requirements of the program will receive the TDI Advanced Wreck Diver certification. However, participation in the program is no guarantee of successful completion and getting a certification. Divers must earn their certification, by meeting the TDI requirements.
The class text will be the TDI Advanced Wreck Diver Manual. Student divers will be required to read the text completely, prior to the beginning of the class. In addition, students will be required to watch the YouTube video documentary on the Dave Shaw fatality, The Last Dive of Dave Shaw.  An analysis of this accident will be made during the lectures.
In addition to meeting all of the Prerequisites, students will be required to read and sign the TDI Liability Release, and complete the TDI Medical Form. There are medical issues which might require the student to have their doctor to sign off on the student's participation.
The summer weather is typically great in Florida, and that's why they call this the sunshine state, however there are bouts of bad weather, and even hurricanes. It is entirely possible that we could lose one or all of our dive days. If the advance weather forecast is undeniably terrible, as in the case of a hurricane, I will make a decision to cancel in advance. If we lose dive days due to weather, I will make them up with you, on mutually agreed upon dates. If you are flying to Florida, you may want to consider travel insurance? DAN now offers travel insurance, and I recommend that you look into it. At the same time, the weather is the weather and we will try to do the best we can to get you to complete your dives. If you miss a dive, you have 12 months to complete the dives for the certification.

Students must be at least 18 years of age.
Students must be certified as an Advanced Open Water Diver
Students must show a minimum of fifty logged dives.
Students must be certified as Basic Wreck, Cavern, or Ice Diver.
Students must be Nitrox Certified.
Students must have dive accident insurance.
Students must be possess a level of physical and mental fitness suitable for the pressures of the wreck environment.

 
Bring the minimum required, bring what you have, and bring lots of questions, but I would suggest you hold off on most new equipment purchases until after the class.
Please feel free to get back to me at any time with questions.
Double cylinders with a manifold are the best setup for wreck penetration.  Side mounts are popular and trendy, but less functional. Singles with H or Y valves can work, but only if you can get by with the inherent limitation on breathing gas. You will need cylinder(s) with volume(s) appropriate for dives planned to 120', considering your individual SAC rate, and future goals in diving. Cylinders can be rented for this course in Florida. All cylinders are to be labeled according to TDI Standards, which means Nitrox cylinders need to be labeled for Nitrox.
You will need a Primary and a redundant Backup regulator on your bottom gas supply, with a SPG on at least one of the first stages. You will need a necklace or some other way to hold your backup second stage regulator in place, and one of your second stage regulators needs to be on a "long" hose that is 6' or more in length.
You need a Buoyancy Compensator suitable for the Open Water environment, and your particular cylinder setup. A typical "Wing" setup for doubles will have 40-65 pounds of lift.
You need one Primary Dive Computer, or Bottom Timer and Depth Gauge combination, plus a back up means to measure depth and time. Regardless of your system, you should be intimately familiar with the operation of at least your primary computer.
You will also need a means to plan your dives using your dive computer, Smart Phone, laptop, or tablet. Examples of popular dive planners are IDeco, MV-Planner.
You will need a Primary handheld light or canister light, a Backup Light, and a strobe light. Pistol grip lights are not suitable for use with reels. ld or Canister Light. Pistol grip lights are not suitable as a Primary Lights, because they cannot be used with a reel.
You will need to bring with you at least one Reel with a minimum of 150' of line on it, and a minimum of one SMB that is around 6' in height. Serious wreck dives typically require multiple reels, spools, and SMB's, however I have a few different types of reels, spools, and SMB's for you to try. Bring everything you already own, but don't buy a bunch of new reels and SMB's.
Two (2) Line Cutting Devices are required, and they need to be sharp.
A usable underwater slate, wrist slate, or notebook, and a writing implement are required.
Bring a spare carabineer, or double dog clip, for attaching accessories, but no gate clips.
You need a working Underwater Compass.
You need a wetsuit or drysuit, suitable for the water temps for the dates of the course. Feel free to call me for a better handle on water temps and further advice.
You will need to keep your head warm, but you also need protection from the wreck environment. You can use a neoprene hood, a skull cap, a do rag, a helmet, or some sort of head cover for the wreck environment, regardless of the thermal considerations.
You need gloves to protect your hands. You can use neoprene dive gloves if you like, but rubber coated work gloves are adequate for the warm water environment as well. Up to you.
You need a comfortable mask, and a backup mask with a way to carry it. You also need a comfortable pair of fins. Inside the wreck, longer fins are less advantageous.
If you need to wear lead weights, make sure you bring a belt or harness to hold them.
The cost of the class is $1000 per student. This includes all of the training, the 6 boat dives, the class text, and the certification. There are no additional class costs, however students are responsible for all of their own equipment, maintaining it in working order,  gratuities for the dive boat crew ($10 per diver per day is customary), and cylinder rentals (if required) as well as all Nitrox fills for the dives. The use of Nitrox is required, to maximize bottom time.  In addition, students will of course be responsible for all their own transportation/meal/lodging costs.
Prospective students who meet all of the requirements, may reserve a place in class with a $500 non-refundable down payment. I will invoice you through PayPal and you can pay by credit card, check, or of course PayPal. If you have any doubts about your ability to participate in this class, please do not make a commitment to attend. The balance of $500 is due on the first day of class. Checks, cash, credit cards, and PayPal are all accepted.
Contact John